Where else to find
Strayficshion
Blog: Links to publications & a whole
shebang of bits & bobs.
posts about new stories.
Black Cat Stories: This is for stuff that's
hard to home, or needs rehoming.
Soundcloud: little audio clips, also an
'album' of all the

Let me Tell You a Story
audio files. Free to listen, download, or
embed.
Collections: published titles, and black cat
(hard to place) stories.
Twitter @strayficshion
Psychology
DemTigerpaw blog: Publications, CV, and
a trilogy in four parts about working in the
NHS.
Twitter @demtigerpaw
Good Question
Website: Resources for clinicians,
theoretical framework, case material,
guidelines.
Facebook page: 'Like' for updates.
Twitter @GQinterview
Art
Behance
an online gallery,
Strayfisharts
a
place for arty images, and
conboyhilldrawingone
my obligatory Level
1 drawing course learning log.
Writing as P Spencer-Beck
Not Being First Fish and other diary dramas
"MySpace is what we had before we discovered
Facebook and began driving our young folk
into the darker recesses of Instagram and
WhatsApp, before everyone became a musician
and flooded us with band noises of variable quality,
and just before the whole thing collapsed under
the weight of animated glitter bombs.
These snippets are drawn from that recent past.
They are largely true if a little fictionalised,
(very fictionalised if you think you recognise
yourself), and of virtually no social value.
You might find them a bit funny though
because obviously I do."
Available from Amazon UK and US
Readalongreads
Originator of this unique way of linking printed text to voice files.
Anthology, Let Me Tell You a Story.
Readalongreads: sounds for stories, tracks for facts.
Let Me Tell You a Story
Out now via Amazon
Here's an audio clip, and here's
Ian McMillan reading his Foreword. If you've never
heard a Yorkshire accent, his is like a pint of strong,
dark beer in a big dimpled glass.
Every story and poem has its own sound track that
you access by scanning a QR code. There's
more informaiton about why being able to
hear the words as you read them might be
important on the Readalongreads site.
You can find the book here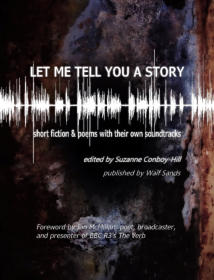 "It happens to clever people,
famous people, vulnerable people,
lost and hopeless people. It happened to me."
Fat Mo is on sale here with all proceeds
going Respond, a charity supporting people
with learning disabilities who have
experienced sexual abuse and exploitation.
Fat Mo